Guess what, Snarklings? It's time for the long-promised review of Spin Doctor Clothing! Yes, really; the Lady of the Manners has been meaning to write up this review for over a year now, but agents of chaos kept thwarting that plan. Anyway! I first discovered Spin Doctor around a year and a half ago, when I was indulging in one of my periodic insomnia-fueled searches of "Gothic Victorian" on eBay. I kept finding items that were utterly charming, with the sort of dark Victorian-but-not-entirely-historically-accurate flair that I prefer in clothing; skirts, waistcoats, jackets, and blouses all made by a company I'd not yet run across. A few days later, after I'd caught up on my sleep, I decided to look at those items again and see if I still was charmed by them, or if it was another case of magpie-brain caused by sleep deprivation.
No, it wasn't. The items from Spin Doctor were just as enticing as I had remembered. So enticing, in fact, I gave in to temptation and bought myself the "Harriet" waistcoat.
When it arrived in the mail, I was delighted. Black cotton velveteen, double-breasted, corset lacing in the back to adjust the fit, and it had a swallowtail back? I decided I had to know more about this company.
The Spin Doctor Facebook page had this to say about the company: "A new, alternative clothing brand with menswear and women's wear designs. Specialising in Steampunk! Spin Doctor was created to cater for an emerging market in Steampunk style offering a Victorian aesthetic with an anachronistic twist. Spin Doctor will produce both menswear and womenswear for the alternative market."
Specializing in Steampunk, hmm? Well, I've been saying for years that the Steampunk folks have been rummaging around the closets of the Gothic Victorians, so I suppose it's only fair that we do the same thing. After doing a bit more searching around, I discovered that Spin Doctor is one of the brands produced by alternative clothing company Pop Soda, who are also responsible for HellBunny. I contacted them, and was delighted when they very kindly sent me a skirt and jacket to review!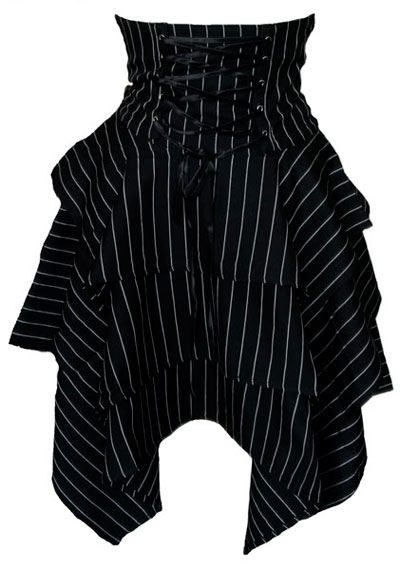 The "Mary" skirt is wonderful. A multi-layer, high-waisted skirt made from heavy pinstriped fabric, it has corset lacing in the front (honestly, we've collectively got to figure out another term for that design detail), a shirred back that allows for an even better fit, and the two layers of skirts are square-shaped, providing a sharp, pointy-hemmed edge to the floof factor of the skirt. It's an amazingly versatile item. I've worn it as a bustle over longer skirts, and of course over my usual layers of knee-length petticoats; I've seen other ladies wear it with fishnets and tall boots, giving it more of a stompy, punk flair. I've seen photos of the same style of skirt done in a red/black plaid fabric, so I suspect that Spin Doctor realized that offering this style in multiple fabrics is a very good idea. (Oh! If they were to make the "Mary" skirt in a Beetlejuce-esque black & white stripe, I would be giddy.)
The second item that the nice folks at Spin Doctor sent me was the "Steampunk Open Cleavage" jacket.
Oh my, rather racy, isn't it? ::wink:: But that's part of the fun of it, because it can be worn alone as the top part of an outfit if you're feeling saucy, or you can wear it over a blouse, as I did when I wore the jacket to Steamcon III.
It's made from a heavy-weight polished cotton sateen that has a tiny bit of stretch to it, has the corset lacing in the back (again, but that's just fine, as I'm very much in favor of garments having that detail), and the buckles and clasps are all sturdily attached. The puffed sleeves and high collar give it a quasi-Victorian air, while the daring cleavage window keeps it from being too staid.
I am very impressed with Spin Doctor. Everything I've seen has been well-made, with fabrics that are both sturdy and attractive, as well as  everything being securely constructed. Plus their items appear to be designed with the idea that their customers want for more than just something to wear to Ye Olde Goth Clubs; many of the garments from Spin Doctor could work for the office or school, if styled with other appropriate items. (Okay, maybe not the "Steampunk Open Cleavage" jacket "¦) Let me put it this way: I am so impressed with Spin Doctor's designs that I have a wish list of other items by them that I plan on eventually purchasing, such as the "Adonia" skirt
And the "Beatrice" waistcoat.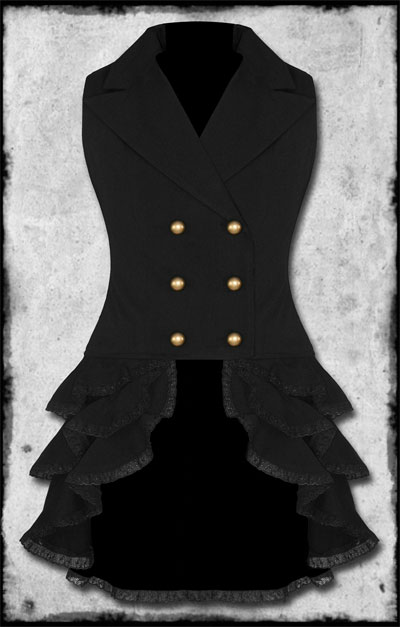 My only complaints about Spin Doctor? Well, there's the usual one of they don't seem to offer any sizes larger a women's XL/14, alas. Which is a shame, because the designs they've come up with would look fantastic on larger ladies, too! They also don't seem to have anything for the menfolk, even if their company info states they will produce menswear. My final quibble with them is that most of the retailers I've found that carry their wares are in the UK. This makes sense, as Spin Doctor/Pop Soda are a UK -based company, but it means postage costs can be a little steep for non-UK customers.
Spin Doctor/Pop Soda only sell their wares to retailers; there's no official Spin Doctor webstore to browse. However, you can find items made by them all over eBay UK, and the Spin Doctor Facebook page helpfully lists retailers that stock them:
http://www.violentdelights.co.uk/
http://www.bluebanana.com/
http://www.sinderellas-shrine.co.uk/
http://www.attitudeclothing.co.uk/
www.the-gothic-shop.co.uk/
http://www.katesclothing.co.uk/
I know that in the Seattle area, BedlamBedlam and The Metro both carry Spin Doctor; for folks in other cities, check with your local independent alternative fashion retailer and see if they do, too! Because if you're looking for darkly elegant clothes with a neo-Victorian twist, you really want to take a look at what Spin Doctor has to offer!