While the Lady of the Manners is probably never going to have short hair, she admits that long hair can sometimes be difficult. Especially in the summer, when wearing your hair down can be uncomfortably warm and sticky. But the Lady of the Manners becomes easily bored with plain ponytails, buns, and other sorts of updos, and suspects that she's not alone in that. Enter one of the Lady of the Manners' favorite (and simple!) solutions: a fluffy, flouncy hair tie! Or, as the Lady of the Manners refers to them, a hair floof.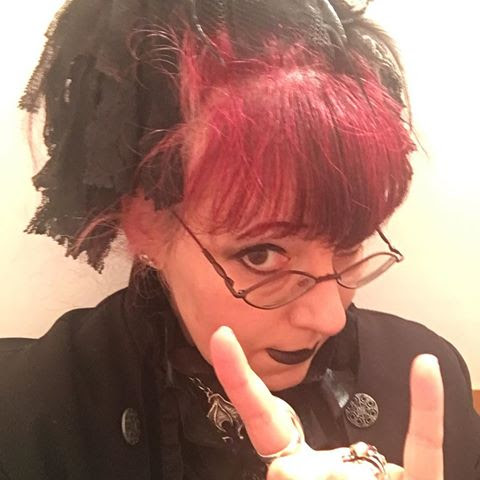 Hair floofs are not just decorative on their own! They make an excellent base to help secure other accessories on your head. Flowers, tiny hats, fascinators, replica animal skulls "¦ if you can put it in your hair as an ornament, you can almost certainly anchor it into the hair floof.
Hair floofs work best when your ponytail, bun, or other updo is at the crown of your head. Hair floofs tend to slide out of hairstyles that are lower down. (The only way the Lady of the Manners has ever gotten a hair floof to stay on a ponytail gathered at her nape is to skewer it on with bobby pins, which defeats the whole point.)
These are extremely simple to make. Can you use a pair of scissors and tie knots? Then you will be able to make a hair floof.
Supplies:
Sharp scissors.
A fabric hair band. One that is slightly larger and doesn't have a crimped metal connector is the best type.
Approximately a quarter yard of fabric.
Optional – a podcast, audiobook, or comfort movie to have on in the background.
You can make hair floofs using strips of multiple fabrics – the Lady of the Manners is fond of strips of stretch velvet alternated with strips of lace – or using lengths of ribbon. The important thing is that the fabric or ribbon has some flow or drape to it; stiff fabric or wired ribbons won't work for this. However, making hair floofs is a great way to use up fabric scraps from other projects; the Lady of the Manners has even salvaged old tights for hair floofs.
Cut the fabric into strips approximately 1"-2" wide, until you have 30-40 strips. The Lady of the Manners likes a more drape-y style of hair floof, so she cuts her fabric strips to be somewhere between 9"-10" in total length. The shorter length the fabric, the puffier the floof. Don't worry if the strips are uneven; it won't really be noticeable, and different sizes mean the finished hair floof will have more texture.

One at a time, tie the strips of fabric evenly around the hair band. Yes, just as if you were making a pom-pom. (Is that even a craft project done in elementary schools anymore? It was when the Lady of the Manners was a child. So many pom-pom projects.)

Push the knots close together; you want to tie as many strips of fabric around the hair band as possible.

Keep tying on the strips of fabric until you can't fit any more on the hair band.
Congratulations! You've made a hair floof!
Pull your hair up with a plain hair band, then wrap the hair floof over the top of the hair band.
If, over the course of multiple wearings, your hair floof becomes stretched out, you can layer it over a newer, springier hair floof. Why yes, the Lady of the Manners has been known to layer three or four hair floofs, just so she can have an extra-fancy hairstyle that won't make her overheat.
Go forth! Entertain yourself for a few hours by making hair accessories!