Hey look, it's time for another installment of Show And Tell at Gothic Charm School! Featuring Noxenlux Chapeaux.
I have a … weakness … for hats. My hat collection is rather large, and I am especially fond of miniature hats. Mini top hats, mini tricorns, whimsical little things festooned with ribbons and feathers (and maybe skulls) I can perch on my head; yes, please! And some of the favorites in my collection were made by Noxenlux Chapeaux!
The hats from Noxenlux Chapeaux are marvels of construction and intricate touches. In fact, Carlee (the temptress behind Noxenlux Chapeaux, who keeps luring me into acquiring even more hats) is one of a handful of people I would call a milliner instead of a hat maker. What's the difference, you may ask? A milliner (in my eyes) is someone who constructs their hats by hand and creates their own designs, while a hat maker is someone who takes pre-existing hats and decorates them. I'm not snubbing hat makers, not at all! Goodness, I indulge in hat making when I have the free time and unearth a spare hat. But being a milliner is an entirely different level of artwork, and I am in awe of people who can manage it.
The hats from Noxenlux Chapeaux are made from scratch with buckram and millinery wire, or are blocked by hand from wool felt. After that well-crafted starting point, the hats go on to be covered with luxuriant fabrics, or embellished with beautiful ribbons and trim. Decorations such as clusters of feathers, cameos, interesting bits of metalwork, crystals, or cast resin skulls are then added as finishing touches.
Carlee spends a lot of time and effort on the hats she creates, and it shows. Whether a Steampunk top hat with fabric that features clock faces, or a striped tricorn that looks like it came off of the set of a movie, it's apparent that each hat she creates was devised with a master plan and an eye for detail, rather than a haphazard collection of ideas and decorations.
Noxenlux Chapeaux has a range of hat designs that include miniature top hats and tricorns, pillbox hats, burlesque-inspired fascinators and tilt hats, larger top hats, and the occasional bowler hat or newsboy-style cap. In addition, Noxenlux Chapeaux will create a custom hat if you don't find quite what you're looking for on the website.
I have the good fortune to own four hats by Noxenlux Chapeaux: two mini tricorns, and two Victorian-styled tilt top hats. They are gorgeous. One of the tricorns is made from a black and pink striped fabric and decorated with black ribbons and pink feathers. As my wardrobe is heavily weighted toward black, pink, and stripy, this is a perfect hat for me. The other tricorn is made from black fabric featuring a lovely scrollwork and skulls pattern (the infamous Alexander Henry "Skullduggery" fabric, which is getting increasingly hard to find!), and has some jaunty black feathers. I made a skirt in the same fabric, which means I was pretty much destined to own that particular tricorn.
(The wonderful thing about mini tricorns and top hats is that they're fancy things that can be worn to events like, oh, concerts, plays, or movies, without worrying that your choice in accessories may be blocking the view of the person behind you. Sure, scoff if you'd like, but it's rude to wear a hat that would do that. What's that? Don't wear a hat to such an event? That's just crazy talk.)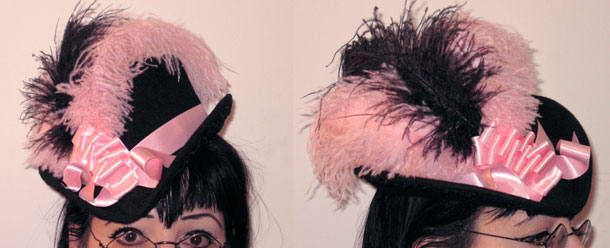 The Victorian-ish tilt hats are insanely charming. They are just the right size to sit on one's head without needing hair combs attached to keep them in place, but they are smaller and lighter than full-size top hats. After I acquired the pink & black one, I rapidly realized that I needed an all-black one for "everyday" wear. (Yes, really. Of course top hats are everyday wear!)
In short, are you looking for a hat? (Of course you have been, if only in idle daydreams.) Then scamper over to Noxenlux Chapeaux and browse. You won't be disappointed!