Just in time for Halloween, Gothic Charm School gives you a tutorial on how to do a "blood spattered" manicure! Painting your nails to look like you've been dipping your fingers in blood is dead (ahem) simple.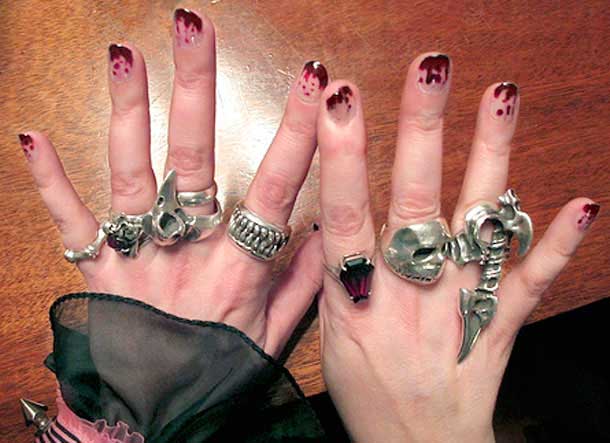 Supplies:
A neutral nail polish shade or translucent ridge-filling base coat. The Lady of the Manners used Barielle Natural Nail Camouflage, but every polish manufacturer offers a selection of "natural" shades, such as "Mimosas For Mr. & Mrs." by OPI, and "2% Milk" by Wet & Wild. If you need help finding a darker "natural" shade of polish, take a look at Fashion Bomb's guide to nude polish for people of color for some suggestions.
A red nail polish. The Lady of the Manners used "Marlene" by Orly, which is a deep blood-wine red. Other shades that would work well are "Sanguine" by OPI or "Night Prowl" by Wet & Wild. A red that is slightly translucent (known as a jelly finish) allows for better color build up and a more realistic look. Good deep-red jellies include "Ravishing, Dahling" by China Glaze, "Ruby Red" by Hot Topic (yes, really!), "Bordeaux" by Essie, and "Sam" by Zoya. If you don't have access to a good jelly red, you can fake it by mixing clear polish with whatever red you do have.
A clear top coat. The Lady of the Manners prefers either the Diamont top coat by Nubar, or the Seche Vite top coat, but any clear (preferably quick-drying) top coat will work. Other quick-drying top coats include Out The Door, Poshe, and Sally Hansen Insta-Dry.
Toothpicks, if you want to get really fancy with your smears of blood.
Step One! Apply the neutral polish to clean nails. (This step always makes the Lady of the Manners feel a little odd; usually the lightest color of polish she will wear is many layers of holographic silver glitter.)
Step Two! Paint the tips of the nails with the dark wine or blood red polish, as if you were doing a french manicure. However, don't worry about having a perfectly even and smooth polish application while you are doing this. In fact, you want the inner edges of the red polish to be uneven.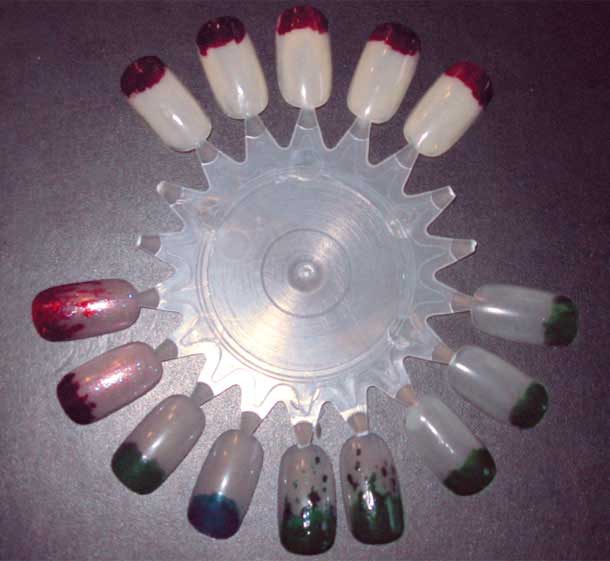 Step Three! Using the end of the polish brush, add smears and spots of the red color to your nails, coming out from the unevenly-painted red tips. Again, you really shouldn't care about your hands shaking or this being tidy. Messy! You're going for messy!
If you want, apply some thick-ish blobs of the red polish, then run a toothpick through it to make streaks and thin lines.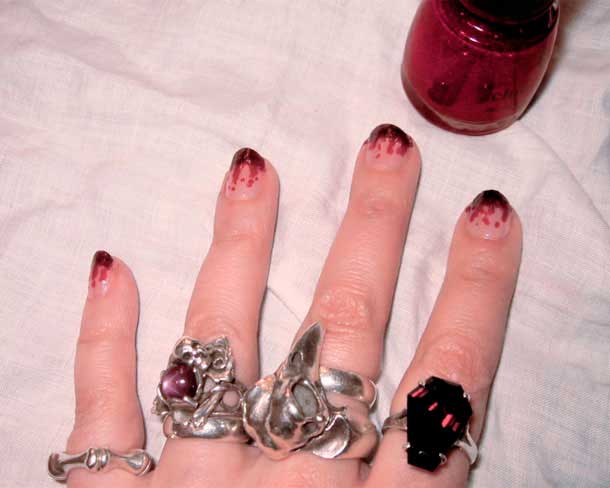 Step Four! Wait between two and five minutes, and apply your top coat. If you have timed this right, the red polish will be not-quite-entirely dry, which means applying the top coat will slightly smear the red. This is good! This will add to the freshly-dipped-in-blood look.
(If you did the toothpick and blobs of polish trick mentioned in the previous step, you will want to use a relatively thick, quick-drying top coat, or your manicure may feel strangely bumpy and take ages to dry.
Step Five! (Which is optional.) After the top coat dries, take a bath, wash the dishes, or do something so your hands are immersed in warm water for a while. Any extra polish you may have slopped onto your fingers or cuticles will simply peel off.
(People who are meticulous about their manicures and polish application may prefer to clean up their cuticles with a cotton swab or fine-tipped brush dipped in nail polish remover, as is usually recommended by nail polish guides. The Lady of the Manners never bothers with that, and prefers the soaking in the bath technique.
This ghoulish manicure style would also look suitably creepy if you substitute a dark green or blue-ish purple for the red color, thus making it look like you've been dabbling in zombie ichor instead of blood.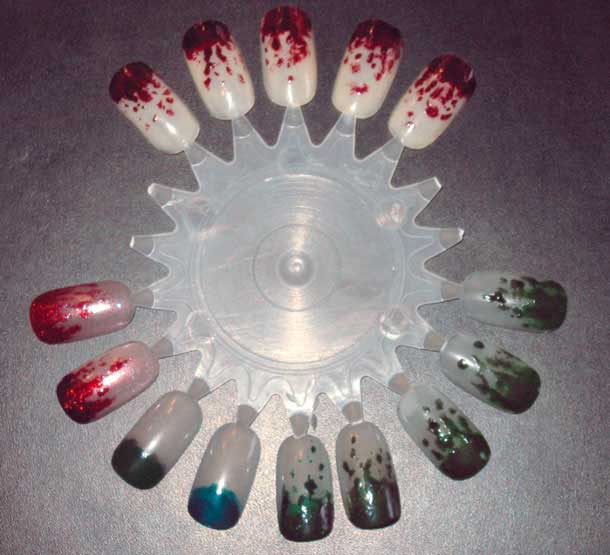 The dark green used for the zombie ichor manicure in the previous photo is "Envy" by Zoya. Thank you to P.M. McRae for the loan of that particular green polish and the nail wheel!
Go forth and paint your nails! If you do try a blood spatter or zombie ichor manicure, please take a photo and send it to headmistress@gothic-charm-school.com so the Lady of the Manners can share it with the rest of the Gothic Charm School readers. And finally, if some of you Snarklings decide to flaunt this look after October, the Lady of the Manners won't raise an eyebrow at you; she's idly considering doing the same thing, oh yes indeed.