Welcome to the Doll House, Snarklings! You see, the Lady of the Manners likes dolls. And doll houses, and miniatures, and fuzzy toy monsters. As it so happens, there are a lot of Goth or Goth-influenced dolls and other goodies out there! So the Doll House is where the Lady of the Manners is going to, well, talk about dolls, review various doll-related goodies, and encourage other gothy doll enthusiasts to comment!
For the first visit to the Doll House, the Lady of the Manners had the good fortune to be able to interview two well-known fabulous people in the world of collectible dolls: Robert Tonner from Tonner Doll, and Joe Petrollese from Wilde Imagination.
Gothic Charm School: The Tonner company is best known for the fashion-influenced dolls such as Tyler Wentworth and Antoinette, which are lovely, but not necessarily something that would catch the eye of someone with Goth inclinations. What made you decide to branch out into the darker side of doll creation?
Robert: Great question! I have a good friend and co-worker, Michelle Hodge, who kept nudging me in this direction. Not to get too esoteric about it, but I think I've changed the way I look at beauty and I think that our collectors have changed the way they look at dolls. Truthfully, I was tired of "pretty" ball gowns and designer suits/dresses for the dolls so I attempted a Goth look for our Halloween Convention a few years ago. I was hooked on the look. The convention doll did really well so I just continued to move in that direction. The Goth dolls led to less "sunny" back stories and set us off in a new direction. At first, I was concerned that our collectors wouldn't get it""but I didn't have to worry. They seemed to love the darker direction and I'm pretty sure I've picked up some new collectors.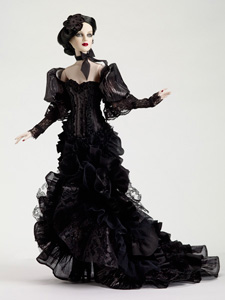 Gothic Charm School: Now that you've created an Antoinette "Goth Basic" doll, and the stunning "Desire" outfit, are you going to create more fabulous haute couture designs for her? What's the reaction to that version of Antoinette been like?
Robert: Both our "Goth Basic" doll and the "Desire" outfit are doing very well, and as I am in business, we will be doing more products in this style!"¨"¨
Gothic Charm School: How much training and practice does it take for a designer to learn to translate conceptual drawings to textiles? How would you suggest someone interested in designing original doll garments get started?
Robert: Wow, there is not an easy answer to your question. I have an extensive fashion background""I designed clothing in New York for almost seventeen years. Joe, my design director did clothing for even longer""so we both have the background. The pattern makers that we work with all have professional experience also. However, having said that, a person with sewing experience and a love of fabric (and good taste) can create original garments. It's just that you have more control over your art the more you know about the tools. As I say to anyone who wants to try something""get started! The sooner you start, the faster you'll get better at it."¨"¨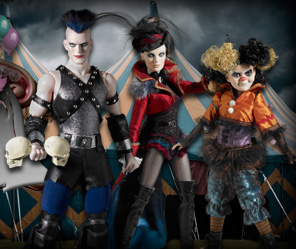 Gothic Charm School: What was the inspiration for the Sinister Circus line? And can you give the Gothic Charm School readers any hints as to what interesting things are in the works for that line for 2012?
Robert: The original concept behind Sinister Circus was Joe's (Joe Petrollese of Wilde Imagination). We had been looking for darker subject matter for a while and we both thought Circus' could be kind of creepy! We really enjoyed creating those characters. And, I'm very pleased to say that we have a Sinster Circus book with a book agent currently. Hopefully the book will be published this year. We've been holding off doing a lot more until we see where the book is going. However, we do have a few characters in work that are, well, sinister!"¨"¨
Gothic Charm School: What made you decide to work with Tim Burton characters for the Re-Imagination line this year? Did Mr. Burton have any input as to what the Ms. Beetlejuice and Corpse Bride dolls would look like?
Robert: We've done the Re-Imagination line for a few years now""the first group were Goth fashion versions of the ghosts from A Christmas Carol and they were big hits. We go back to that line every year with something different and this year, we wanted to give the Tim Burton properties a try. Although we've never met Mr. Burton, Joe and I are big fans and, from what we hear, he likes what we do (we've done many Tim Burton projects). Joe sketched a few samples of what we wanted to do and he approved them. We were both thrilled that he liked the concepts. We would love any input Mr. Burton would want to give, but so far, he seems to like what we come up with.
Gothic Charm School: How do you decide which media properties you want to approach to make dolls from? Is it a case of what really grabs you artistically, or which characters you think would translate well into dolls?
Robert: I am always looking for new properties to translate into what we do, so we really keep an eye out for anything in the popular culture that might work. It seems like there are some great movies being done now that translate really well into character figures""but we don't do just anything. We have been very wrong on occasion and that can be very costly (The Golden Compass comes to mind). As a collector, I have to want the figures we're creating first of all. For the most part we pick pretty well. "¨"¨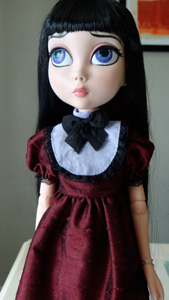 Gothic Charm School: The advance photos I've seen of the Maudlynne Macabre doll are adorable! Why did you decide to create another Goth doll, and what were your inspirations?
Robert: Maudlynne is on our toy line""Tonner Toys. She was dreamed up by Jason Reilley who works in design for that division. I've always thought that a play doll with a slightly darker theme would be popular with little girls and boys. "¨"¨
Gothic Charm School:The Maudlynne Macabre doll (and the City Girls dolls?) are all more "toy-like" than previous offerings from Tonner. What made you decide to jump into the toy doll world? How large an initial wardrobe offering has been planned for her?
Robert: I've always wanted to make toys""or, at least dolls for the toy market. I started Tonner Toys with three partners who all have toy experience. Working in the "toy world" let's us do projects that are more accessible to children. As far as a wardrobe for Maudlynne, we'll probably just get the doll out first and plan clothing for later""all in good time!"¨"¨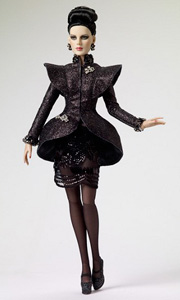 Gothic Charm School: From the current Tonner doll offerings, tell me who your top three favorites are.
Robert: Usually the dolls I like best are the ones that I just finished. For instance, at this time I'm really liking Nu Mood and Precarious. I also love our new take on our Deeanna Denton line."¨"¨
Gothic Charm School: If you were able to create any doll you wanted, what would your dream project be?
Robert: I feel like I'm pretty lucky""I pretty much have done the projects that I've wanted to do over the years. One of my biggest thrills was to get the rights to do Harry Potter. We also work with the best studios out there who like what we do so it's been great. I have always wanted to do a Doris Day fashion doll, but other than that, I really can't think of anything else.
—
The Lady of the Manners first learned about Wilde Imagination a few years ago, when she saw the first ads for the Evangeline Ghastly doll, became smitten, and started searching for any information she could find about this gorgeous doll who had the wardrobe of the Lady of the Manners' dreams. Here's what the Evangeline Ghastly site has to say:
Created by designer Joe Petrollese and sculpted by renowned fashion doll artist and designer Robert Tonner, Evangeline is crafted entirely of the finest pale luminescent resin, and now available in high-quality vinyl, too. She is completely ball jointed, essential for unlimited posing possibilities. She comes with realistic, inset eyes and a designer outfit befitting any mortician's assistant. Hand-painted features, a wig made of the highest quality fibers, and designer outfits that use only the finest of fabrics and trims are the hallmarks of this quirky girl.

Inspired by Tim Burton's The Corpse Bride, The Addams Family, and even Barbra Streisand, Evangeline comes to you straight from the attic of Barkley Manor located in Ipswich, England, across from the local cemetery.

Gothic Charm School: What made you decide to branch out and create Wilde Imagination?
Robert: Wilde Imagination developed from a desire to do new and different things and to have a different business model. I think that both Joe and I push ourselves a little more with Wilde""that's a positive on the design side. On the business side, we sell directly to the collector so the feedback is pure and immediate (for better or for worse!).
"¨Gothic Charm School: What made you decide to add Mortimer Mort to the Evangeline Ghastly family? Is he going to end up with a wardrobe to rival Evangeline's, or is he going to suffer the plight of most Goth men, and not have as many choices?
Joe: Every story needs a love triangle. Mortimer was the first to be introduced so that Evangeline had someone to turn her attention to. Remember she lives by herself (not counting her pets) in an attic and works at a mortuary (not much conversation going on there). She doesn't have many friends in town and knows of no other family members (well not yet anyway). Now that her cousin Parnilla is coming back to town there's going to be fireworks. You'll need to read more about her family on the website. It just seems natural that Evangeline and now Parnilla ( Parnilla was born in Ipswich but grew up in Paris and was raised by a famous fashion designer) get all the clothes but Mortimer will get more clothes as time goes on. He's a shy guy and it's going to take time for him to show his true colors."¨"¨
Gothic Charm School: What is your favorite thing about creating the designs for Evangeline Ghastly?
Joe: Getting to explore all the different looks. When we first started the line I think a lot of people thought how is he going to create a line that will continue season after season just based on this concept. Goth doesn't have to be just "black" if you know what I mean. Plus having her story line helps. It's like designing for a movie. I can put her into different situations and dress her for them. We create the script and design the costumes. "¨"¨
Gothic Charm School: Tell me about the Imperium Park Steampunk dolls! What made you want to do a Steampunk-specific line?
Robert: Joe and I had been exploring Steampunk for a couple of years and we started the line almost two years ago. We both like the detail and the nostalgic/sci-fi aspects of Steampunk, and there really hadn't been a true Steampunk fashion line out there. Plus, we're having a blast coming up with the story line."¨"¨
Gothic Charm School: What were your references and inspirations for the Imperium Park dolls?
Robert: We researched Steampunk fashion on line and we've started there. We do want to add our own unique take eventually.
Gothic Charm School: Are there more Steampunk/mad scientist accessories planned for them, such as the Apothecary Case?
Joe: Absolutely. Having these items makes the collection even more exciting. ӬӬ
Gothic Charm School: From the current Wilde Imagination dolls, who are your top three favorites?
Joe: That's hard to say. It's sort of like trying to pick out which one of your kids you like best.
Ӭ
Gothic Charm School: Have you ever considered yourself a Goth? If so, do you still have gothy tendencies, and working with these dolls is a way to express those? Or if not, do you think the dolls and their designs are a way for you to explore the Goth world?
Robert: Never did""but I grew up in the mid-west, many years ago and that's stayed with me. If I were a young person today, I certainly might lean that way. Doing Goth dolls is a way to express a dark beauty""and that appeals to me.
Joe: I don't consider myself goth in any way (although I do wear a lot of black), but I am attracted to the dark quirky side of things like Tim Burton's work and such. Also, there's something very glamorous about women like Morticia Addams and Lily Munster.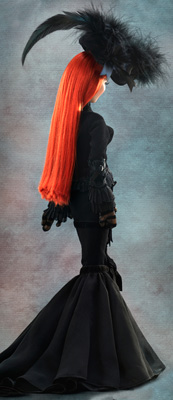 Gothic Charm School: Ellowyne Wilde and especially Evangeline Ghastly are, without a doubt, Goth dolls, with outfits and accessories that many Goths (including myself!) want in real-person sizes! Where do you find inspiration and ideas for the them?
Robert: For Ellowyne I look at New York street fashion, Japanese street fashion, current runway and then mix it all up. Plus, fabrics are always the start and a big part of the inspiration.
Joe: Evangeline's clothing is part Victorian/Edwardian, part Streisand-inspired, and part movie-inspired. Actually the ideas come from all over. The story behind EG is that she lives in an attic filled with clothes and furniture and stuff. She has her own design sense so she takes the clothing from the attic and re-designs them to suit her style. She also gets cast-offs from the mortuary where she works and uses them too (don't worry, they're never previously worn by any of the customers). Having been a fashion designer before, coming to work for Tonner I never really think of the clothing as being designed for dolls. I just design as I would for a human.
Gothic Charm School: Goth clothing is notoriously detailed in its construction; what challenges have you run into in creating doll-sized Goth fashions?
Robert: I think scale is always a challenge. To get a fabric to drape the way you want takes a lot of trial and error.
Joe: This is probably one of the reasons that I'm attracted to these kinds of clothing. I like the little details and heavily constructed garments. As Robert said, fabric is usually the challenge. Most fabrics are not scaled for dolls, they're scaled for humans.
—
Coming very soon to the Gothic Charm School Doll House: reviews of the Ms. Beetlejuice and the Dandy of Death Evangeline Ghastly dolls! Just as soon as the Lady of the Manners stops playing with the dolls and finishes taking the photos, that is.
What do you think of the ever-growing trend of Goth-themed dolls? Enticing? Creepy? A sign that the subculture is under attack from outsiders? (You're allowed and encouraged to have your own opinions, Snarklings, but if you do espouse that one, the Lady of the Manners is going to roll her eyes at you, just a tiny bit.) Anyway, look! Comments are open! Moderated as always, but open, so discuss! While you do that, the Lady of the Manners is going to dither between holding a tea party or a seance for her dolls…