As some of you may know, in 2011 the Lady of the Manners was asked to be the official goth consultant on Brandon Lee Roberts and Tara Johnson-Medinger's Kickstarter-funded independent teen movie, My Summer as a Goth.
Time scampered on, and now, after trials and assorted chaos, the movie is in the final post-production stages! Behold, the trailer!
Having seen the "cast and crew" preliminary edit of the movie, the Lady of the Manners is delighted to tell you that it's just as charming, sweet, and snarky as she originally hoped.
She's also delighted to have been able to interview the producer/director, Tara Johnson-Medinger!
What are the next steps for the movie?
We are currently finishing up final sound design, sound mix and clearance for the film. We will be ready to go for our film festival premiere this October! We are running a fundraising campaign to complete the final costs needed. SO many people have donated time and services to this project, but there are simply some hard costs that we are running up against to complete the film. I AM SO EXCITED to be at this point with the project, to finally deliver it to all the people that have supported us along the way!
We plan to have a healthy film festival run and are in preliminary talks regarding online digital distribution — think platforms like Netflix, Hulu, etc. I think that the film will be widely available on a digital platform within the next year. We will be keeping everyone updated on festival screenings, www.mysummerasagoth.com, as well on Instagram, Facebook, and Twitter.
What is the "elevator pitch" you used for My Summer as a Goth? As you took the project to different levels, how did it change?
My Summer as a Goth is a coming-of-age comedy about the sometimes painful, often entertaining, search for identity and love in adolescence.
After the sudden death of her father, 16-year-old, Joey Javitts is sent to stay with her eccentric grandparents while her author mother promotes her latest novel. Joey promptly falls for the beguiling Goth boy next door, Victor, and is transformed by him and his merry band of misfits in black.
Set in present-day Portland, My Summer as a Goth navigates Joey's relationships with her new friends, her family and herself, and will resonate with anyone who survived the social alienation of adolescence""and that first summer heartbreak.
As most of you know, it has taken almost 10 years to get this film from script to screen. Let's just say that we have been down many paths in terms of financing, who was going to direct, and where we were going to film. What it came down to was that in order to keep our original vision intact, we needed to make it ourselves on a shoestring indie budget. Ultimately, I moved into the director's chair and took the film to completion. It has been hella hard at times, but completely gratifying to finally get to this point – with the story we wanted to tell.
The thing that kept me going through all of this was the commitment of the cast, crew and supporters.I didn't want to let them down, I wanted to give them a movie, and that is what I did.
Who was the most difficult character to cast?
The casting process was so cool, but tough! We cast Natalie Shershow as our lead, Joey Javitts, almost a year before we started production, so when we got to the formal casting process it really was a about finding the right chemistry among the actors, especially for our Victor character. Many times we had to let go of what we originally thought we were looking for because an actor brought in such an unique performance that the desire to work with them overruled our initial casting idea.
The hardest role to cast was the character of Pen. We had many people audition for this role, but no one quite got what we wanted or what we were looking for. During one casting session, Jenny White — who at the time was cast as Molly (Joey's BFF) — was in attendance and offered to read for the part of Pen while we were auditioning candidates for the role of Pen's boyfriend, Cob. She and Carter Allen (who eventually was cast as Cob) did an amazing job, and Jenny completely surprised us with her performance of Pen. That night Brandon and I emailed Jenny asking if she would be interested in taking on the role – one that is very different than Molly. We were so excited that she agreed! I cannot imagine Pen as anyone else!
(An aside from the Lady of the Manners: Pen and Cob are her FAVORITES. All of the characters are wonderful (even the jerks), but Pen and Cob are the the Lady of the Manners' precious spooky cupcakes.)
What are some of your favorite goth -influenced movies?
I think I about died the first time I saw The Hunger. David Bowie, Catherine Deneuve and Peter Murphy in the same movie? About Vampires? Yes please.
(Another aside from the Lady of the Manners: The Hunger has the best opening scenes of any vampire movie (and possibly any movie) ever. EVER.)
Back then I desperately wanted my own Ankh-knife necklace but alas on-line shipping did not exist, so they were hard to come by…maybe one day.
(So many asides! For any readers who may be looking for their very own bladed ankh necklace: ta-da! The Lady of the Manners recently indulged in this pendant, and is delighted with it. Stereotype Technology!)
Other favorite Goth-influenced films? Donnie Darko, Interview with a Vampire, Bram Stoker's Dracula, Gypsy 83, Beetlejuice, The Craft, and the classics, Dracula and Nosferatu.
What are your favorite parts of the goth subculture? Music, literature, fashion …?
I really love the fashion, especially the more Victorian-influenced outfits with lots of tulle, bustles and corsets. I also love seeing that style mixed with unique finds from vintage shops, like how we used to do it in the "˜80s! I am constantly inspired by all the younger Goths who post photos of DIY outfits they have put together. It's very cool.
Can you describe what your favorite outfit was from your life in that era?
I had this pair of Japanese pantaloons that I wore until they practically fell apart – I loved those pants. When I think of myself back then I see myself in this outfit: black turtleneck, black tights and a checkered black & white skirt with a huge black belt. I would accent with a pillbox hat, a myrrh bag around my neck and bell ankle bracelet. I definitely blended a goth/hippy look.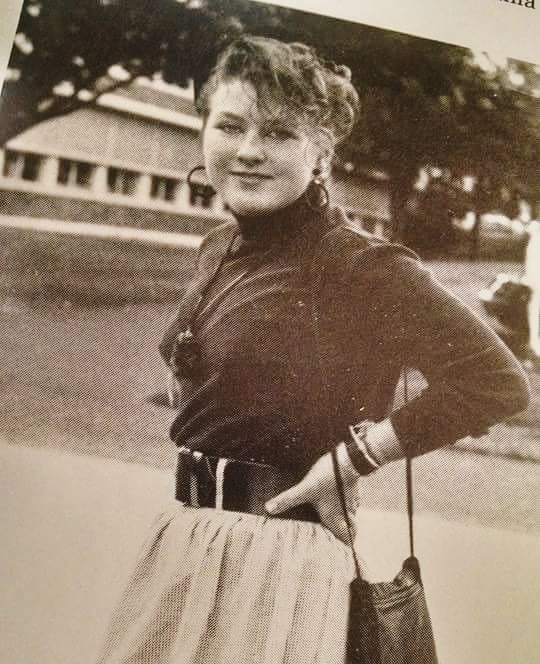 Next up would be music – I am a huge Bauhaus fan and one of my best concert memories is seeing them in concert in LA around 1999 on a reunion tour. Probably the only concert that I have attended that I knew every single song they played, even the more obscure cuts. That was a seriously cool night and talk about amazing fashion among the attendees — wow!
I'm not up on my Goth literature as much as I should be, but I have read Interview with a Vampire, most of The Vampire Chronicles, and this delightful book called Gothic Charm School…perhaps you have heard of it? <3
The thing that really stood out for me about the story is how fondly understanding it is of the goth subculture. Did you and Brandon consider yourselves goths Back In The Day? Or was it a community you knew of and orbited around, but maybe didn't feel you were part of it?
I would say that we dabbled. We were definitely part of the alternative crowd of kids that hung out in downtown Salem, Oregon after school. Drinking endless cups of coffee at The Beanery, smoking clove cigarettes and walking the mall. We would also come to Portland a couple times a month to hang out at The City Nightclub which had an amazing Goth and Darkwave dance room, The Hollyrock.
What sort of kids made up that alternative crowd? And do you feel that people from different alternative communities were more likely to hang out "across territory lines", as it were, than today?
The alternative crowd in Salem was made up of a lot of different types of people: goths, punks, hippies, weirdos, "misfits" really that found community together. We have a line in the film that reminds me of that time, "Us freaks gotta stick together".
We have always been wearers of black and have had an affinity and appreciation of the Goth culture, clothing and music. I am still completely committed to wearing my cat-eyed black eyeliner everyday!
Which leads to the obligatory makeup questions: What's your favorite black eyeliner, and what's one cosmetic product from Back In The Day that you'd want to be brought back?
I am all about the liquid eyeliner with a traditional brush. I use L'Oreal Lineur Intense – Carbon Black. But I can't come up with an answer for the second one! It seems everything that I used back then is still available – and then some! Even crazy colored hair dye, like Manic Panic, is so easy to find compared to back then!
What do you feel is the most important piece of advice for aspiring filmmakers?
DO. NOT. GIVE. UP. It sounds completely cliche, I know, but really it is so true. If you believe in what you are doing and are passionate about it, keep going. There are so many ways to create content these days and the ability to do that is much more available than it has been ever before. Community Television and YouTube are great places to just…start. It does not mean that you will be a big Hollywood star right out the gate. Be willing to learn and ask questions, do the work, treat people nicely and with compassion, support other filmmakers, and keep going even when it is really hard.
—
The Lady of the Manners is eagerly waiting for My Summer as a Goth to be released, and swears on her copy of the pink vinyl limited edition pressing of the Bela Lugosi's Dead 12″ single that she will tell everyone as soon as the movie is available for viewing. And by "tell everyone", she means with posts in ALLCAPS, flailing, and probably too many emojis. 😀