Snarklings, it's July in the Lady of the Manners' part of the world. In other words, summer, the dreaded season of burning sunlight and high temperatures. Woe! Woe are the goths!
Oh, all right, the Lady of the Manners may be indulging in the tiniest bit of melodramatics about summer. There are many goths who adore this season, and look forward to warmer weather and longer days. The Lady of the Manners doesn't happen to be one of those types of goths, and judging by questions showing up in the Gothic Charm School mailbox, many of you share her opinions. Which means it's time for a summer survival guide!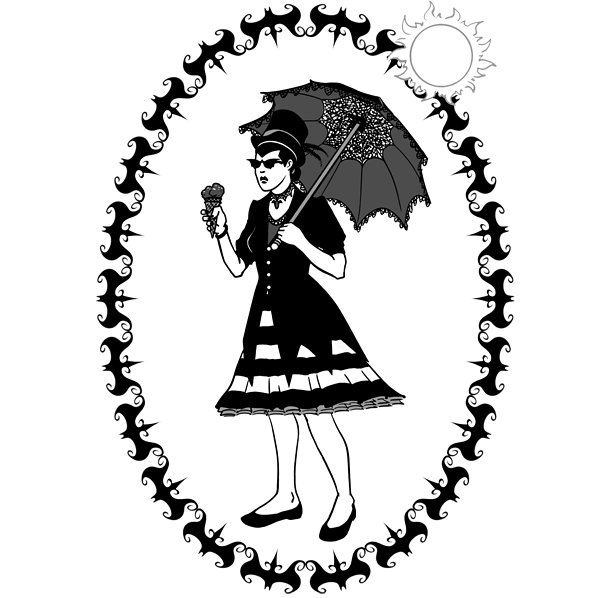 Favoring inky hues and layers of fabric, whether in antique or punk styles, is not entirely practical during warm weather. Yes, layers of lace and fishnet can be substituted for velvet and leather, but you still should be aware of what the fiber content of those layers might be. Synthetic fibers, such as polyester and nylon, are not great choices for summer because no matter how lightweight they may be, they don't breathe. Sheer or lightweight fabric doesn't make a bit of difference if it still traps heat and sweat against you! Look for lightweight clothing made with a high percentage of natural fibers, such as cotton, silk, or rayon. If you refuse to give up your fishnets, then remember that you can dampen them with water and take advantage of evaporation to help you stay a little cooler.
Don't feel you have to stick with goth's traditional midnight "none more black" palette! White, gray, ivory — all lovely hues that work well with gothic styles, and will absorb less heat from the sun. According to "conventional wisdom", that is, but there are articles saying otherwise.
One of the Lady of the Manners' favorite places to find lightweight clothing in black or white is Dharma Trading Co., where not only can you get a variety of garments in different natural fibers, but you can find the dyes and other supplies to customize them.
Hats! While the illustration shows a top hat, the Lady of the Manners is here to warn you: most top hats are made of felted wool, which means they will keep your head toasty warm. Not what you want in summer! As the Lady of the Manners is rather fond of top hats, she scoured the internet until she found a summer-weight straw version (be warned, slow-loading site!), then spent a few evenings painstakingly coloring the hat with black archival art markers and then covering it with black lace. (Do not feel you need to duplicate that sort of effort, as the Lady of the Manners freely admits the project was a bit impractical and obsessive, even for her. And look! Now there's a black raffia top hat out there. Where was this two years ago, drat it?)
But a lightweight hat is incredibly helpful to shade your eyes and keep your head from scorching, and there are all sorts of options. The nu-goth side of fashion is full of wide-brimmed black hats, which can be found in just about any store that carries sun hats. You can leave such a hat plain, or adorn it with feathers, veils, ribbons and bows, clouds of black tulle, black fabric roses, bird skulls and bones, bits and pieces of jewelry from thrift stores — really, anything that strikes your fancy and can be affixed to the hat by sewing or glue.
Parasols! Take shade with you whenever you're out! Now to be perfectly honest, any umbrella will also work as a parasol in a pinch. Yes, it's very fun to have an extra-fancy gothy-goth parasol, but there are times when function is more important than form, and warding off the burning orb is one of those times. Which leads the Lady of the Manners to a pet peeve: yes, lace parasols look very pretty in photo shoots, but are nigh-useless for shielding your delicate moonflower self from the sun. Opt for something with a solid covering, Snarklings!
The Lady of the Manners is very fond of the "Signature Pagoda" umbrella from Bella Umbrella, because it has a lovely shape and interchangable handles! Designs by Victoria offers parasols thoroughly decorated with lace and ruffles, while Clockwork Couture has a selection of paper parasols printed with designs such as skulls or tentacles.
Sunblock! No, not because you have to be pale to be a goth (the Lady of the Manners has an entire post refuting that narrow and silly notion!), but because sun damage and skin cancer are very real concerns! Look for something that offers broad-spectrum coverage, be it a "chemical" or "mineral" -based block, and take a look at the reviews and comments on the Environmental Working Group Guide to Sunscreens. Personally, the Lady of the Manners has discovered that many of the "chemical" block sunscreens make her skin unhappy, so she tends to powder her exposed skin down with Jane Iredale powder sunscreen, and make sure she has a large sun hat and parasol with her if she needs to be outside during the day.
Other useful tips!
– Stay hydrated. Yes, that's obvious, but it's easy to forget to drink water when you're busy and/or distracted by other things. But also make sure you're getting enough electrolytes and salt at the same time, please!
– Carry a fan with you, so you can generate your own cool breeze whenever you need. Metal handle fans that unfold into a circle are sturdy and can be easily tucked into a bag or pocket.
– Handkerchiefs. Yes, fabric ones, preferably made from cotton. You can use it to discreetly blot perspiration, or you can dampen it with water to use as a cool compress on your wrists or the back of your neck in truly sweltering situations.
– Ice packs and bodice chillers. If you must wear elaborate goth finery in high temperatures, tucking a pliable ice pack into your corset or waistcoat might make the crucial difference to avoid heatstroke. Don't laugh, that's how the Lady of the Manners has survived some summertime goth events outdoors.
– Blotting papers. Yes, for all genders, because sometimes just blotting the perspiration from your face will make you feel less sticky.
With that, Snarklings, the Lady of the Manners is going to stare forlornly at the weather forecast, then go set a carafe of herbal iced tea to steeping. Do you have your own tricks for dealing with the summer heat? Share them in the comments! (Which are, of course, moderated.)