Makeup is a staple of goth fashion. It's not by any means a requirement to be a goth, but it is very, very prevalent. (The Lady of the Manners doesn't want to think about how many hours she spent practicing with liquid liner to be able to achieve pointy winged eyeliner.) And more and more cosmetic companies are producing items targeting those of us with a darker sense of style.
Well, some of us, in this case. As the Lady of the Manners has mentioned in other places, she's become a fan of a floral goth aesthetic. Black flowing skirts with prints of overblown roses worn with black velvet jackets, hair accessories with layers of blooms, that sort of thing. When the retail theme for Halloween 2018 turned out to be blackened floral decor, the Lady of the Manners feared for her bank account. So when Wet n Wild announced the Rebel Rose collection, the Lady of the Manners both sighed and flailed, opened a new browser tab, and faced temptation.
There are three different box sets: one each for the skincare and makeup collections, and then one deluxe box set that has everything except the Rebel Rose -themed makeup brushes, which are sold individually. The Lady of the Manners was very tempted by the brushes, with their black handles that looked like rose stems and the black and pink bristles, but realized she didn't actually need any more makeup brushes. Or skin care items.
However, floral goth eyeshadow and smoke-tinted creme blush and lip balm that were supposed to magically turn to a deep pink rose shade? Yes, those were needed.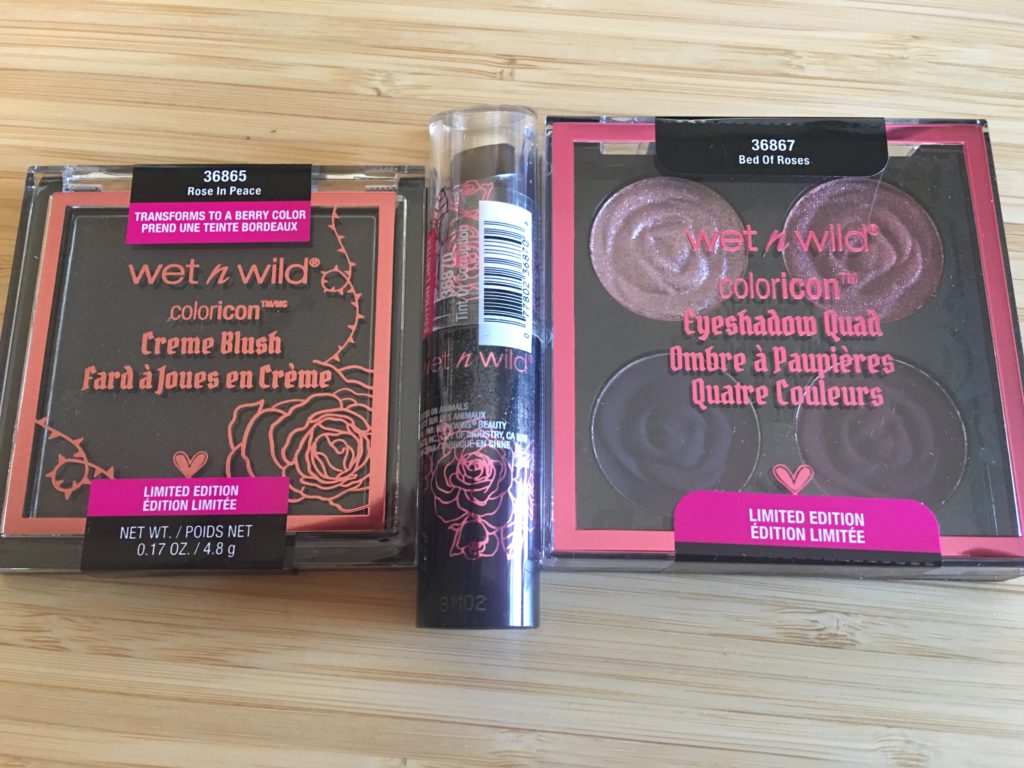 (All Wet n Wild products in this review were purchased, not sent for review or promotional purposes.)
The photos on the WnW website made the Bed of Roses eyeshadow quad seem to be everything the Lady of the Manners has been looking for. A deep purple! A deep burgundy! A dark shimmery pink! A lighter shimmery pink! But alas, things were not as they seemed.
Those are lovely colors, but not the cool-toned shades the Lady of the Manners was hoping for. For someone who wears warmer-toned makeup, this is a great set of colors. As always, the pigment density in WnW eyeshadow is exceptional, especially with a price of $4.99 USD.
The Rose In Peace creme blush was much more satisfying in terms of the Lady of the Manners' color preferences. It does indeed apply as sheer smoke with a hint of shimmer, and then turns into a sheer deep pink blush. It also layers well if you want a deeper color.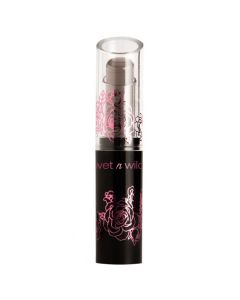 The Tint Of Corruption "Perfect Pout Jelly Balm" is a product that filled the Lady of the Manners with nostalgia, as color-changing "mood lipsticks" were a Big Deal in her youth. Those lipsticks were green or blue, but promised to magically turn into a color matching your mood. In reality, everyone's mood was apparently signified by sheer fuchsia lips.
The Perfect Pout Jelly Balm does the exact same thing. Oh, it goes on as a sheer smoke color, but turns into sheer fuchsia. Which is fine with the Lady of the Manners, but may not be something others want.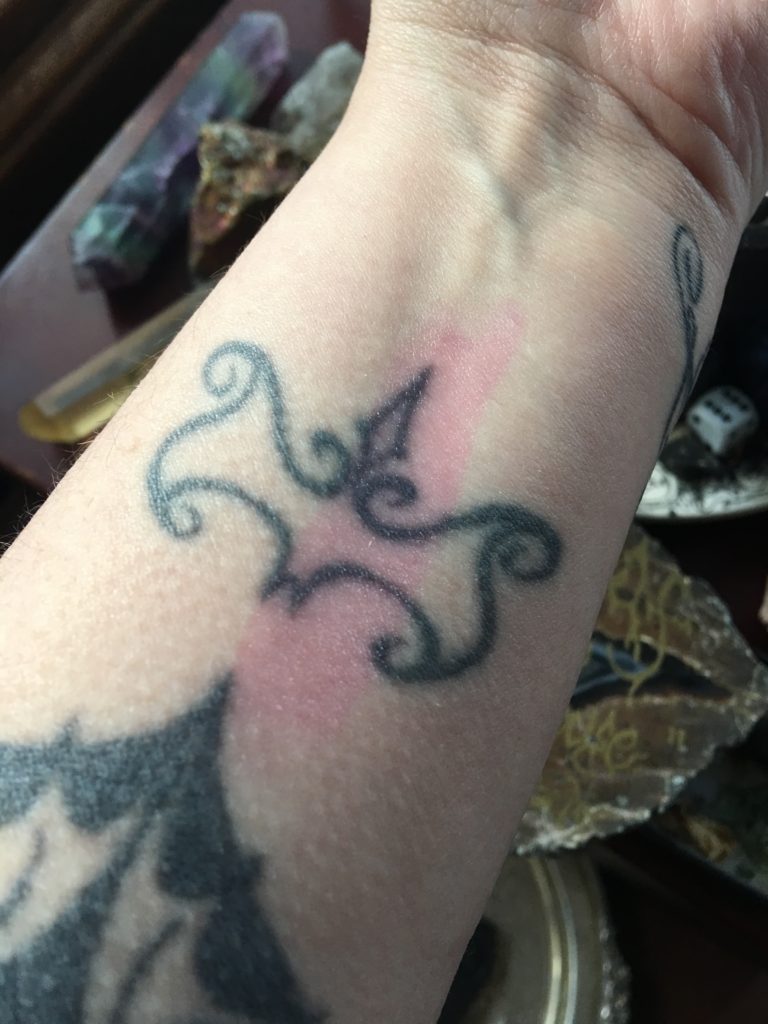 However, it is moisturizing without feeling sticky, and works well to add a layer of moisture to refresh regular lipsticks. (But don't use it over any liquid-to-matte lipsticks!) It has a mild rose scent which fades quickly, so you won't spend the entire evening wondering why you're being haunted by ghostly flowers.
So as always, Wet n' Wild's products are extremely good value, with excellent quality for the price and availability at most chain-type drug stores. Oh, and they're cruelty-free!
– – –
As some of you know, the Lady of the Manners is fond of glitter. Very fond of glitter. The Lady of the Manners' objection to the Cullens of the Twilight books wasn't that they sparkled, but that they weren't really vampires. (The Lady of the Manners will eventually inflict her Opinions about that series of books upon you, but now is not that time.)
The nice folks at North Star Glitters, knowing of the Lady of the Manners' weakness, sent her a box of amazingness. (With a wonderful note!)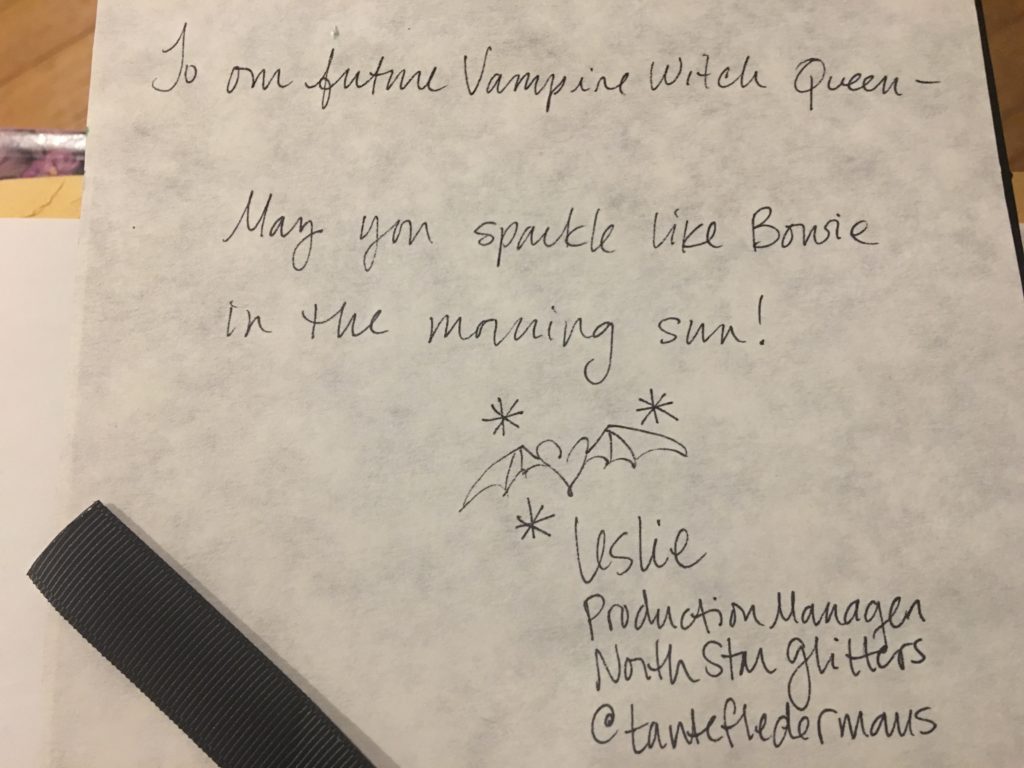 North Star Glitters' claim to fame is that their One Step Glitters are premixed with an unscented cosmetic binder, which makes them a one-step glitter product. It also means that you won't create a small cloud of glitter when you open the jars, thus saving other people in your living space from sparkly annoyance.
That claim to fame is completely true. The glitter has a dense, creamy texture, applies smoothly with a flat bristle brush, and doesn't shed during wear. It hardly creases! (And that may simply be a case of the Lady of the Manners' particular eye shape, not anything to do with the product. In fact, that probably is the case.)
And oh, the colors! North Star Glitters very kindly sent a box specifically tailored to the Lady of the Manners' favorite colors, but they have all sorts of metallic, iridescent, and UV reactive (?!?!) shades.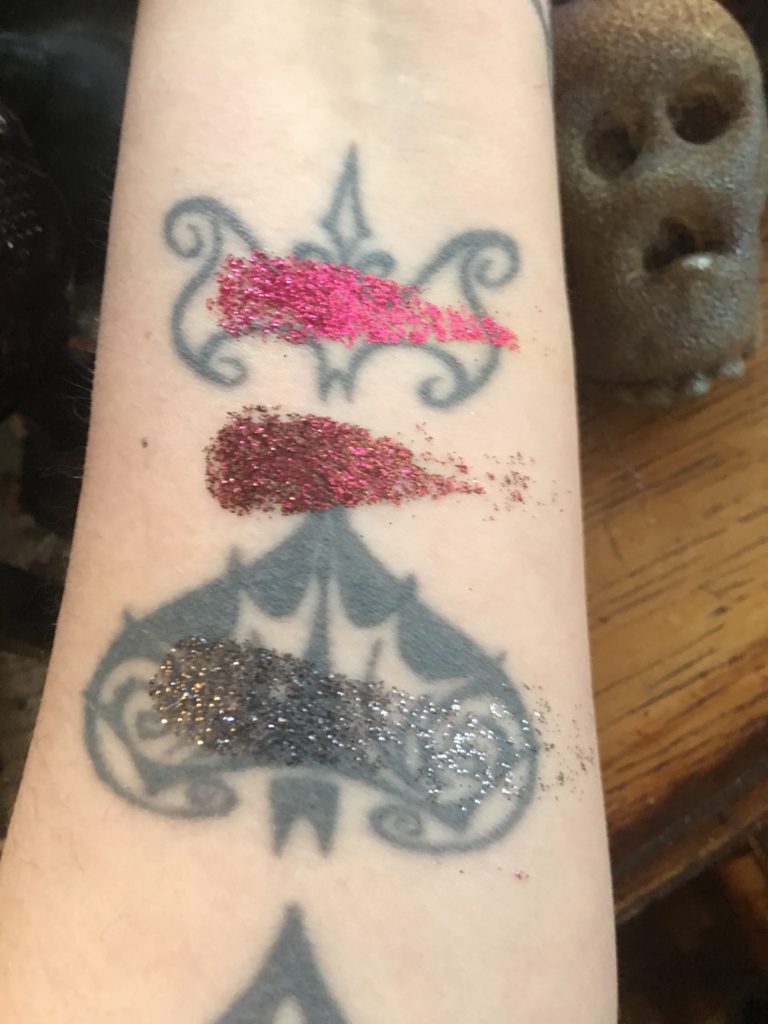 In order from the smallest to the largest bat tattoos: Courtney, Cindy, and Cassandra.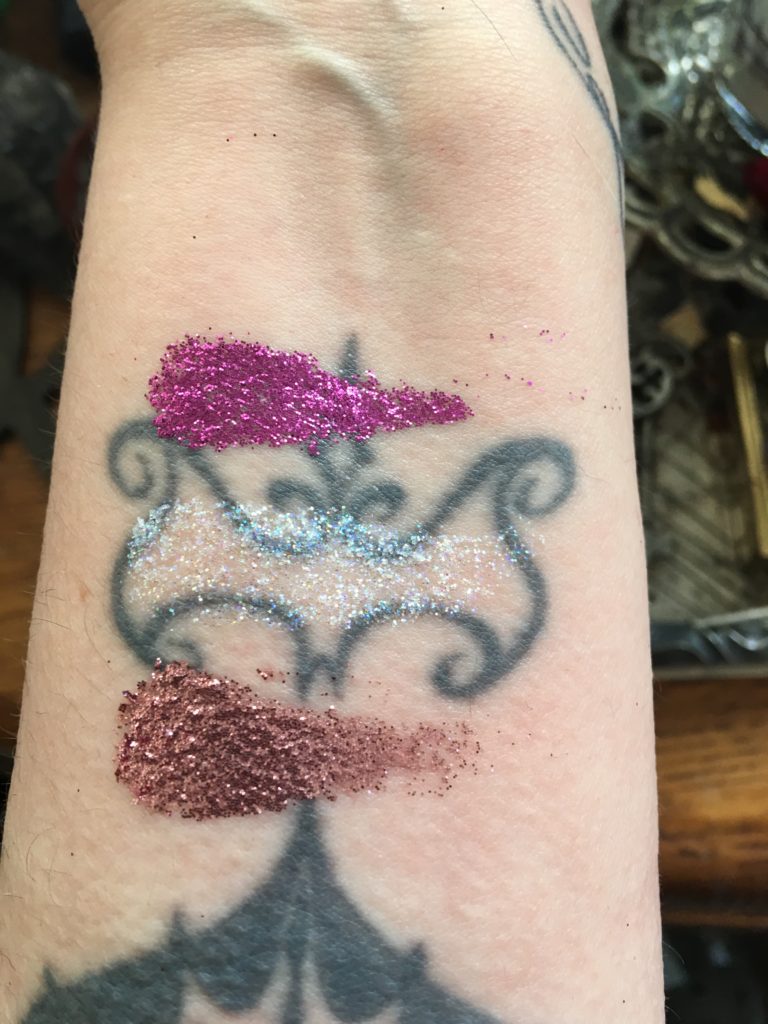 Again, follow the smallest bat to the largest: Leslie, Yvette, and Allison.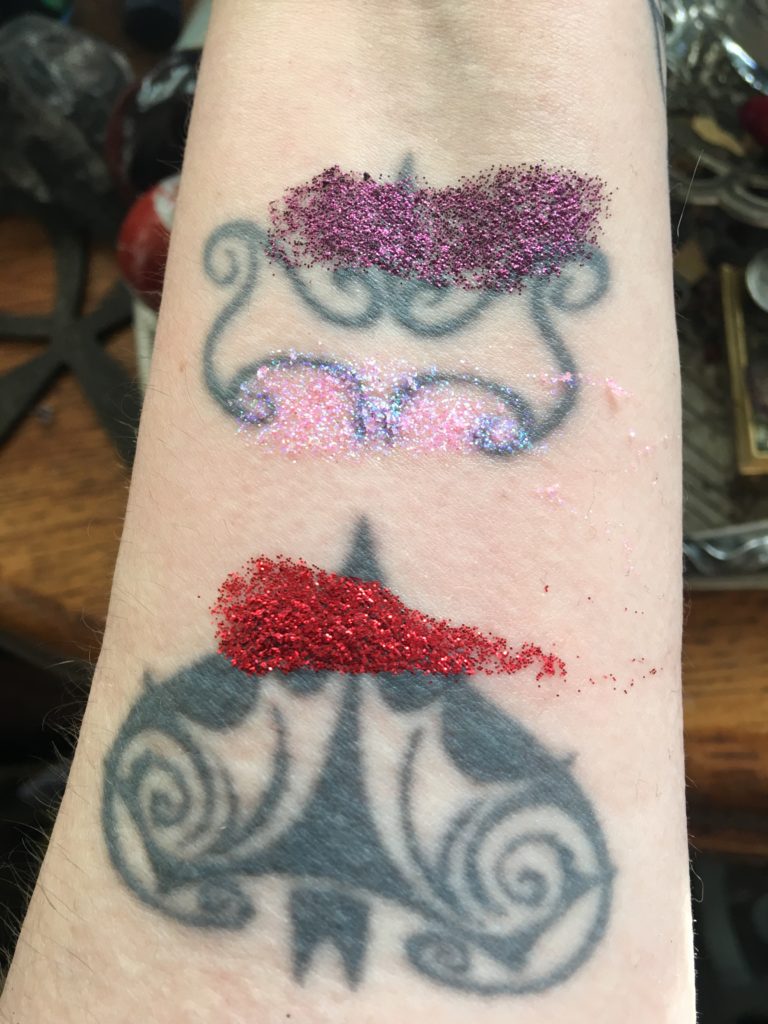 Bats! Again! Always follow them! Reagan, Katie, and Jackie.
The glitter used by North Star Glitters are cosmetic grade, but are not environmentally friendly.
– – –
What colors would you like to see become readily available from mainstream cosmetic companies? Are you for or against glitter? Do you also remember mood lipstick? Talk about things in the comments!