Just in case you've somehow missed the Lady of the Manners burbling everywhere about it: the Jim Jarmusch movie, Only Lovers Left Alive, is possibly the best vampire movie she's ever seen. Tilda Swinton! Tom Hiddleston! AS VAMPIRES. It's a gorgeous, lush opium dream of a movie about immortal love, and you should see it if you're able to.
The mad geniuses over at Black Phoenix Alchemy Lab have created an official line of perfumes for the movie, and they very kindly sent them to the Lady of the Manners! So for the next little while, it's review time! Starting out with our pair of immortal lovers, with a "bonus track" review of the Lady of the Manners' favorite scent from the entire collection.
(Text in italics are the official descriptions from the BPAL site.)
EVE 
 
Eve is eternal: in three-thousand years, she has likely traveled the length and breadth of the world, immersed in innumerable cultures throughout the ages, observing the ebb and flow of humanity and the imperishability of nature itself. Despite her age, she is the character that seems most rooted, always experiencing each moment with open eyes, always fully present. Her scent is one that travels through the eons: the Irish moss, yarrow, and hawthorn of the Iron Age Britons, ancient Rome's omphacium and honey, myrrh and calamus from Egypt, the frankincense and damask roses of the Florentine Renaissance, white sandalwood from the Far East, Moroccan saffron and rose water, and a swirl of incense from the souks.
It opens with a cloud of roses gilded with honey and saffron, warm and inviting. As time goes on, it deepens into a lingering breath of incense and the barest touch of bitter greenery, but always anchored by the sweet dust that belongs to stacks of old, much-loved books.
 
ADAM 
 
Adam, our suicidally romantic scoundrel. His scent is a palette of somber colors, melancholy memories, and lupine, savage beauty: black leather, pale sandalwood, ambergris accord, and the memory of a long-lost Victorian fougère.
His internal life seems to be reflected in his lair, so his perfume also possesses the scent of the wood of his guitars, the rosin from his violin bow, the musty wool of neglected Oriental carpets, the plastic, metal, and magnetic tape of his reel-to-reel, the dust that permeates everything. 
Leather and dust, and the smell of empty rooms full of memory. As time passes, there's a hint of salt, as if from unshed tears. The growing warmth of the wood of musical instruments almost mask it, but it circles back to the scent memory of a leather jacket worn on a cold night.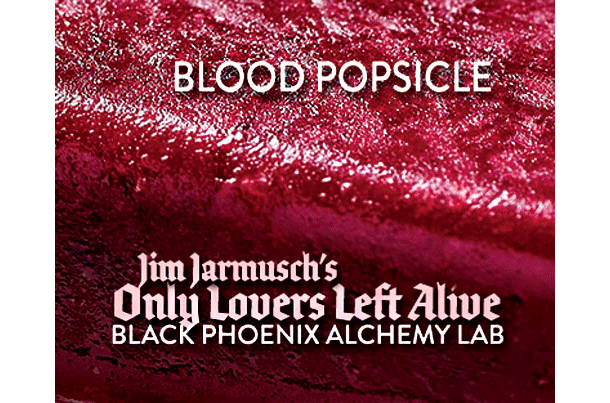 BLOOD POPSICLE
 
The scent of frozen Type O negative.
"The good stuff". Honey and amber and salt, wrapped in blood-red velvet. The perfume version of a shiver of delight. Send bottles of this to the Lady of the Manners in tribute, for it is possibly the best thing she's ever smelled.
IAN: Y'know, for a zombie, you're alright.
A flicker of hero worship, tempered by naivety and an innately kind nature: shaggy leather, sweet rum absolute, and patchouli.
Warm leather and rum wrap you in an enthusiastic embrace, while the bassline of the patchouli reverberates with your heartbeat. There's no tobacco listed in the notes, but there's something about this scent that evokes it. This is the Platonic ideal of every boy I ever dated in college, and of late-night clubs –not the reality. Wear this if you want to indulge in the dream of finding a clear-eyed romantic who will speak to you in a whisper you can hear despite the loud guitars surrounding you.

AVA:It's always a bit weird with family.
A scant two-hundred years old, there doesn't seem to be anything that roots Ava to her past. Her scent is utterly contemporary, and, like her personality, it is impulsive, capricious, and dangerous. Voluptuous and brittle, lovely and toxic:  sheer vanilla musk with tuberose, red mandarin, and the sweet poison of white almond.
Feral baby powder. This is the scent of sweet hedonism partying to ignore the inevitable come-down and consequences. The sharp red mandarin catches your attention, then vanilla musk and tuberose beckon to you with a sly, sweet smile. The white almond lingers the longest, but flickers in and out of your perception.

KIT:
Immersed in his (eternal) life's work, holding on to his memories, suffused with a love of life and literature, Kit's scent is soft and dry as bone: Mysore sandalwood, a tattered and patched 16th century waistcoat, inkstained, still scented with the marjoram and benzoin dry perfumes of his youth.
Take your oldest, most beloved garment and breath it in; now take that scent and age it for centuries. It opens with the dust-dry air of the sandalwood, but the smell of ink grounds it, while the marjoram keeps the dust of ages from becoming overwhelming. Time passes and will always do so; enjoy your memories but mingle the dust of experience with fresh leaves.
JUNE 23, 1868: True love renewed by night in an English garden: moonflower, Nottingham catchfly, Casablanca lily, evening primrose, night-blooming cereus, Queen of the Night, muted by the sepia tones of tonka, tobacco absolute, bourbon vanilla, and costs. 
Heady, swooningly romanic, with a touch of youthful love. The floral notes smell as if they are silvered by moonlight reflecting on dew, while the tonic, tobacco absolute, and bourbon vanilla creep out over time, preserving the floral bouquet through the years.
FUNNEL OF LOVE: 17-year aged black patchouli, champaca flower, cardamom bud, green coriander, Haitian vetiver, red vegetal musk, black pepper, night-blooming jasmine, and leather.
 
This smells like a wall of fuzztone guitars sound. Sharp, dizzying, and almost dissonant at first, but the notes of pepper and jasmine bloom out to echo over the baseline of leather and patchouli. The cardamom bud and green coriander give sharp bursts of static, and the red vegetal musk oscillates through it all.
WOODEN BULLET:  
A .38 caliber bullet fashioned from cocobolo wood and brass. 
Bitter dark wood, with a metallic overlay. You would think that a scent with wood notes would eventually turn warm, but this doesn't. The wood becomes deeper and darker, but never warm. The brass adds a glimmer of light to the scent, but stays cold and metallic. It's lovely, but in some way remote.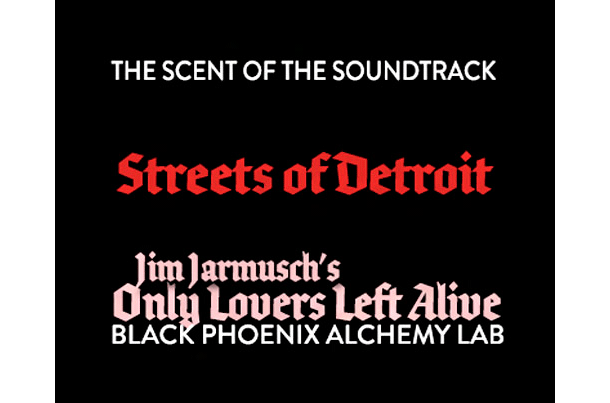 STREETS OF DETROIT: Black musk accord, Ethiopian myrrh, and motor oil.
Urban blight made romantic. The myrrh and motor oil blend to create a screen of things that feel necessary, while the black musk binds them together. The combination of the three make me think of weeds sprouting as rain puddles on oil-soaked concrete.
SPOOKY ACTION AT A DISTANCE: "When you separate an entwined particle and you move both parts away from the other, even at opposite ends of the universe, if you alter or affect one, the other will be identically altered or affected. Spooky."
 
Instantaneous correlated action between entangled partners: rose-infused sandalwood with violet leaf, frankincense, geranium rose, and a spark of elemi. 
There's no separate recognition of any of these notes, they're so entwined. Open a small treasure chest of sandalwood and be enveloped in a twining delicate floral cloud. As time passes, the scents are still entangled, but are more diffuse and stretched.
http://blackphoenixalchemylab.com/shop/only-lovers-left-alive/spooky-action-distance/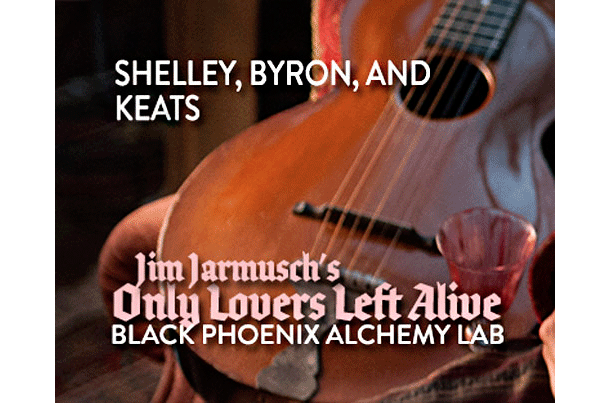 SHELLEY, BYRON, AND KEATS: SHELLEY, BYRON, AND KEATS
 
Uncompromising idealism, haunted romanticism, fatal ennui, and a heady amount of scandal and vice: red roses and pale carnation with a draught of laudanum, smears of opium tar, a hint of absinthe, and mercury ointment.
 
My thoughts upon smelling this: "Well now I want to go have a midnight picnic in the garden. How difficult would it be to set up all the velvet throws and pillows, candelabras for enough light to read a book of antique ghost stories, and a tray with the absinthe, glasses, and the absinthe fountain? Far too ambitious a plan; I should just stay draped on the couch. Why oh why don't I have a butler?"
Shelly, Byron, and Keats is one of my favorites from the Only Lovers Left Alive collection. I embrace my cliches so hard they squeak in mock-protest.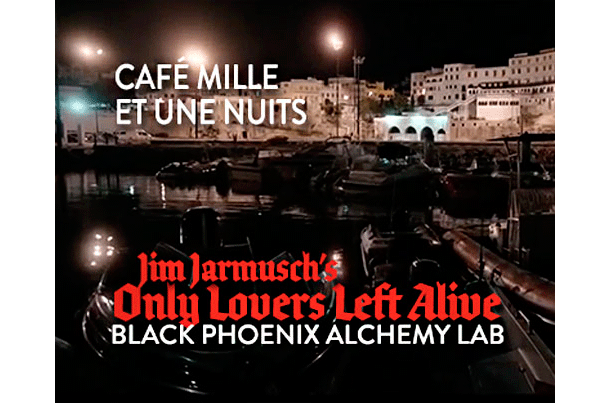 CAFÉ MILLE ET UNE NUITS: Shisha and thick coffee brewed with cardamom pods, cinnamon, clove, black pepper, and nutmeg. 
 
This smells like the best, most decadent tiramisu ever dreamed of. Dark, honey-thick coffee, with bright bursts of pepper and the almost floral taste of cardamom. Scrumptious, and fills me with an overwhelming craving for a cup of good coffee. (More than usual, I mean.) This scent makes me vexed that there has been no coffee scent ever made that works with my body chemistry.
THIS IS YOUR WILDERNESS: Honeyed patchouli with cypress, black pine, and tobacco absolute.
The sharp, prickly bite of pine needles and green leaves rustling in the darkness, rooted in soil so dark it's sweet and sticky. The tobacco absolute drifts through it all. This is a scent for all the dryads who flaunted centuries of tradition and struck out for the big city. Defiant trees inexorably dismantling the strip malls around them.
THERE'S WATER HERE
 
This place will rise again. The wisdom of eternity imparting a glimmer of hope through the grace of eternal renewal: the wild glory of nature bursting through cement, metal, and urban despair, purified by the waters of Lake St. Clair.
Lots of different types of water: still ponds, lakes, rain dripping down from abandoned buildings and collecting in puddles that reflect streetlights in an oily sheen. As time rushes on, it becomes impossible to pick out which type of water it smells like; just water-drenched greenery and concrete.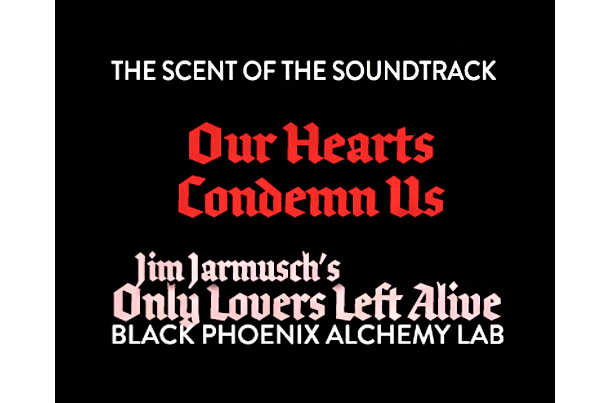 OUR HEARTS CONDEMN US: Keralan teakwood, Bulgarian rose otto, Himalayan cedar, and oudh.
This is a small wooden treasure chest, covered in dark-stained carvings of twining leaves. When you lift the lid, inside are the powdery fragments of dried petals from every rose you ever have and ever will receive.

THE HOURGLASS:
 
"I feel like all the sands are at the bottom of the hourglass."
"Turn it over, then."
 
The white roses and orange blossoms of hope penetrating despair's black fog of opoponax, black myrrh, bruised violet, clove, funereal lily, and grief-struck carrot seed. 
"Despair's black fog" is right – the opening of this scent is dark, and evokes the almost giddy-yet-poisonous feeling of giving in to despair and hopelessness. The the roses and orange blossom break through, sweetening the lows. This scent, in a way, smells like hope. It doesn't ignore or cover up the sadness at its heart, but it doesn't stay there.
(I wish I could send a bottle of this back to myself in 2011, because it might have made that horrible year a little more bearable.)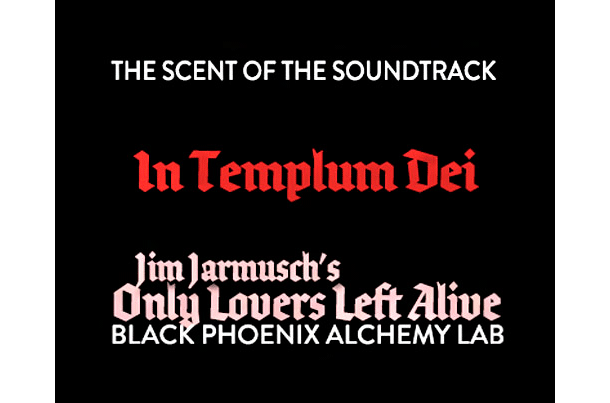 IN TEMPLUM DEI:
Oman frankincense, cistus labdanum, white sandalwood, and liquidambar.
This is sugared incense. Anoint the hollow of your throat with this, and breathe deep of the sandalwood and frankincense, while the sweetness of the mixture swirls around you like a drop of gold ink in water.
HAL:
 
Saffron-infused bourbon vanilla, blackened honey, Kashmir wood, Atlas cedar, ambrette seed, hay, and Egyptian jasmine absolute.
This opens with sweet fruits, sticky with dark honey. The Kashmir wood and Atlas cedar help tame the sweetness, while the saffron-infused bourbon vanilla adds a sharp, glimmering edge to the scent. It evokes my childhood imaginings of what the Turkish Delight the White Witch tempted Edmund smelled like.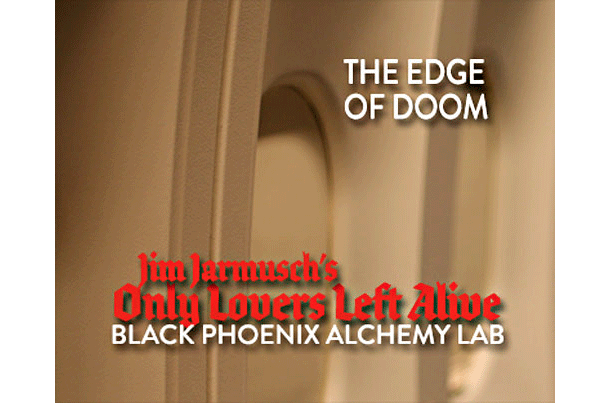 THE EDGE OF DOOM:
 
Love alters not with his brief hours and weeks,
ӬBut bears it out even to the edge of doom.
ӬIf this be error and upon me proved,
ӬI never writ, nor no man ever loved.

 
The night flight from Tangier: drops of spilled blood color the antiseptic, bland, plastic paleness of the fuselage, with violet leaf for longing, rosemary for reminiscences, and black opoponax for apprehension.
This is a strangely compelling scent. It does have notes of blood and plastic, somehow. But those notes become a background for the creeping green notes of the violet leaf and rosemary. Something man-made, abandoned for years in an overgrown field. To me, this is the scent of being unable to concentrate because of sleep-deprivation. It's not unpleasant, but it certainly feels like going round and round in lonely circles inside my own head.
DIAMOND STAR:
 
Ambergris accord, guiac wood, white benzoin, immortelle, and Somalian myrrh.
This is a scent is something that glitters. It's not sharp or cold, but it is remote and twinkling. Distant warmth and light, as sweet and delicate as holiday lights seen through a frosty window.
THE DIAMOND'S GONG:
 A celestial hymn, singing to Earth from fifty light years away: ten billion-trillion-trillion-carats of glittering white musk, with cognac, tagetes, white champaca, Gum Arabic, and davana. 
This smells like how I've always hoped champagne would taste. Sweet and glittering, with effervescent bubbles tickling your nose. This and Diamond Star are mirror images of each other, which is appropriate. Both are filled with light, but while Diamond Star is warm and hazy, The Diamond's Gong has a shivery and metallic resonance to it.
 
—
The Only Lovers Left Alive collection from Black Phoenix Alchemy Lab. Only 350 bottles of each scent are available.